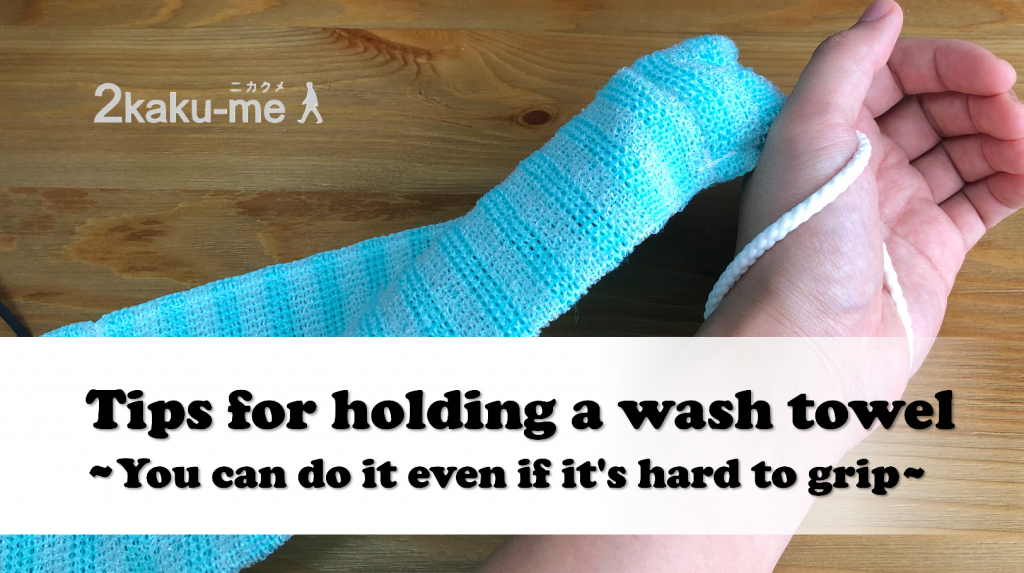 <INDEX>
<Sponsored Link>
1. You can wash your back using a towel with loops without holding it.
A towel with loops at both ends is sometimes used as an option for washing the back. The reason for this is that the following situations often occur with one or both hands.
・Difficult to grip the towel.
・Not enough strength to pull the towel.
・Difficult to keep gripping the towel while washing the body even if it is possible to grip it. 
However, just putting your hand through the loop on the end of the towel may not be enough to wash your body.
This is because while you are scrubbing your body, the towel you thought you had wrapped around your wrist may end up being pulled up to your elbow. In other words, when using a towel with loops, it is necessary to devise a way to hold the towel with loops.
This page introduces a way to hold a towel so that the loop can be easily fixed to the hand. The proposed method allows you to hold the towel without grasping it and thus can be used in cases where it is difficult to grip or keep grasping. 
As an appendix, wrapping a body wash towel around the palm and also introduces a way to rub the non-affected hand with the affected hand below the second half of the movie.
I hope this information is helpful.
2. Tips for holding a wash towel
Depending on how much the affected hand can be moved, it may be necessary to choose a different type of body wash towel. The body wash towel shown in this video is a "non-stretch" towel. If the affected hand is unable to push the towel out, the non-affected hand may have to pull it out, or it may be difficult to keep the towel on the back, resulting in a situation where it is difficult to wash the body efficiently.
The solution to this problem is to use a "stretchy" body wash towel. We have introduced a comparison of "stretchy" body wash towels and "non-stretchy" body wash towels. If you are interested, please check the following link.
3. The purchase site of a towel with loops
There are several products similar to the one introduced here available outside Japan (Amazon.com).
However, it is inferred that the loop is too short to implement the tips of holding this product.
▶︎ Nylon Bath Towel is here>
▶︎ Back Scrubber is here>
4. Click here to rate, follow on SNS, and comment on this information.
The number of stars at the top of this page confirms the usefulness of this video. Please click on the stars to rate!!

Information is also available on SNS. Please subscribe and follow our channel!!
 
Nikakume Official SNS
▷Youtube: https://www.youtube.com/channel/UC_eC5s-K5PhCNrnAgujpFoQ
▷Facebook: https://www.facebook.com/nikakume
▷Twitter: https://twitter.com/nikakume
<Sponsored Link>
---