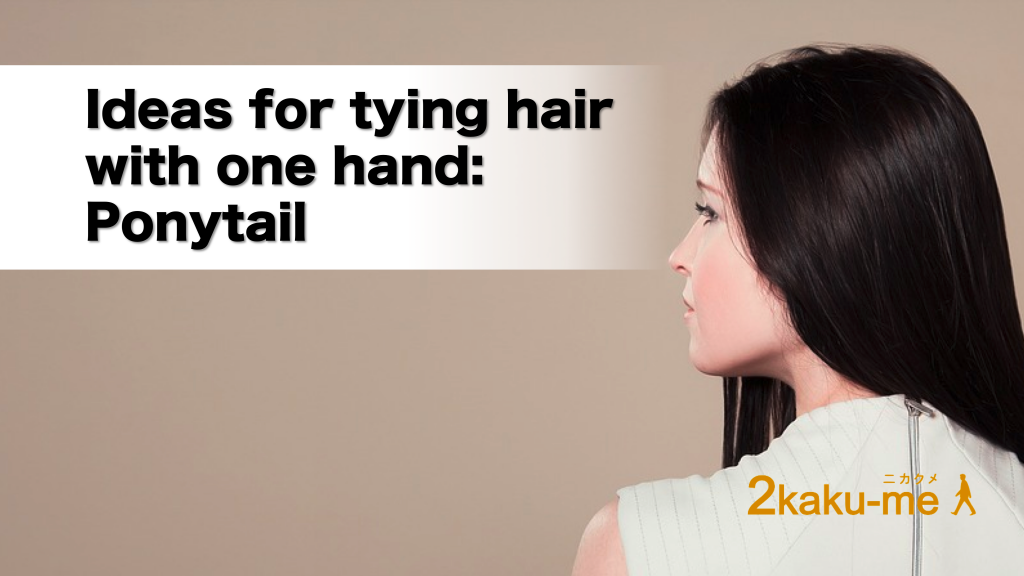 ▶︎Index
<Sponsored Link>
Styling your hair is also an important part of fashion
It's important to dress up in a way that makes you feel good and changes your mood. If you have long hair, tying your hair up is also considered to be fashionable.
However, when I listen to stroke survivors, I sometimes hear that they want to tie their hair. On the other hand, I also hear that they have short hair because they cannot tie their hair. When the paralysis of the hands is severe or when it is difficult to feel the sensation from the hands, it is more difficult to bring the hands behind the head or to move the hands without checking with the eyes.
When tying hair, there are two roles that need to be performed: holding the hair in place and tying the hair with an elastic or barrette. If we could substitute either of these two roles with something else, we could tie our hair up like a ponytail, right!
So, I'd like to introduce one method I've found for tying my hair with one hand.
Use the wall to hold your hair down while you tie it up with one hand!
This video shows how to make a ponytail using a wall as a substitute for holding your hair up, and how to put your hair up using a barrette!
0:47 – Explains how to make a ponytail, including how to hold the elastic.
3:03 – Explains how to make a ponytail
4:12 – How to fasten your hair with a barrette
 
 
As I explore the various methods, I find that they vary depending on the length of the hair.
  

To make it easier to put your hair together, you can twist it into a bun and then put elastic through it, or you can put your hair together while lying on a bed with the paper down.
 
Putting your hair in a bun makes it easier to pull the elastic through!
1:15- Gathering hair into a bun and putting it into a ponytail
2:39- Use a wall to hold your hair in place and tie your hair up
3:18- Pulling hair down from the bed and tying it up (into a ponytail)
 
 
The first step of threading the elastic through the hair is quite difficult. Also, it seems to be easier to do if your hair is somewhat long.   
Please leave your comments in the comments section. Please leave your comments in the comment box so that we can think of a solution. The comment box is at the bottom of the page.
 
<Sponsored Link>
Related video
Please evaluate our contents, follow us on SNS, and comment!

The number of stars at the top of this page confirms the usefulness of this video to you. I'd appreciate it if you could give it a star! Please leave your comments at the bottom of the page.
 
Please comment from the bottom of the page, and follow me on SNS.
We will consider new events depending on the number of registered users.
 
Official account of 2kaku-me 【Nikaku-me】
▷YouTube is here>
▷Facebook is here>
▷Twitter is here>
▷LINE@ is here>
<Sponsored Link>
---