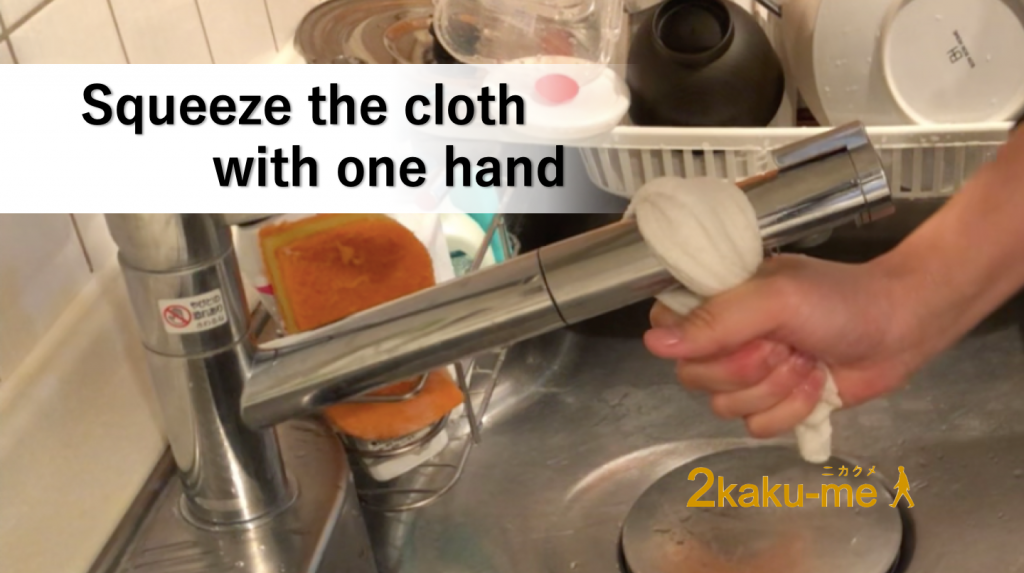 ▶︎Index
<Sponsored Link>
How to squeeze a cloth with one hand?
When you're cooking, you will squeeze the cloth to wipe some dishes, the sinks, the chopping board, and so on. Most people will believe that to squeeze the cloth need both hands. So, most of the stroke survivors who I know say that I can't squeeze it, and even if I can squeeze the cloth, It is not enough because too wet to wipe it. However, I know that using one hand the cloth squeezing, through my clinical experience as an occupational therapist.
 
As supplementary information, the positional relationship between the hands when squeezing the cloth affects the degree to which the water can be squeezed. Regarding the positional relationship between both hands, water can be squeezed more easily when the positions of both hands are vertical rather than horizontal.
 
Therefore, this time I will tell you how to squeeze the cloth in the vertical direction position with one hand.
 
   
Use the faucet to squeeze the cloth with one hand
 
If you squeeze with one hand, you will realize that there are two tips to squeeze more efficiently and more tightly.
 
▶︎Point 1: Use your wrist as much as you can
After bending the wrist, hold the cloth and squeeze it to bend the wrist firmly. In the video, it is the above method, but I think it is also good to bend the wrist as much as possible and hold the cloth, and extend the wrist and squeeze it.
 
▶︎Point 2: Move the body laterally according to the squeezing movement
You will find that using your wrist as much as possible is not enough.
By moving your body left and right according to the movement of your wrist, you can further narrow down the cloth width than when you squeeze with your wrist alone.